Marvin Finklehimer
Character Information
Marvin "Bert" Finklehimer is a supporting character in The Amazing World of Gumball. He is an elderly man who is occasionally seen around Elmore.
Appearance
He is a short, round, and red being. He wears a little brown hat, and walks with a cane. He also has only three teeth and overly large eyes with brown pupils, and he is very wrinkly due to old age.
Personality
Marvin is a senior citizen who is usually seen with the rest of The Senior Citizens. He seems to be quite energetic for an old man, as he's seen teasing Anais with a biscuit in "The Responsible," but he's also quite frail, as most elderly people are. He can also be quite stubborn, as shown in "The Watch."
Episode Appearances
Season 1
Season 2
Season 3
Season 4
Season 5
Gallery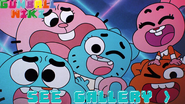 Click here to view the gallery.
Trivia
Ad blocker interference detected!
Wikia is a free-to-use site that makes money from advertising. We have a modified experience for viewers using ad blockers

Wikia is not accessible if you've made further modifications. Remove the custom ad blocker rule(s) and the page will load as expected.