Logan Parker Grove is a child actor and voice actor who started acting at age six. He was the voice of Gumball Watterson. He has been replaced by Jacob Hopkins in Season 3, due to his maturing voice. His last episode was recorded on August 29, 2013.[1] He starred in the 2006 movie, Arc, and is the voice of Beast Boy on Cartoon Network's Young Justice in 2017. He has also guest starred on many other TV shows.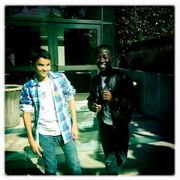 Filmography
2005
Untold Stories of the ER (Michael Lanosa)
2006
The Angriest Man in Suburbia (Trevor)
2007
1321 Clover (Tyler Tuttle)
Mr. Woodcock (a birthday Kid)
2008
Lower Learning (Nickleby)
2009
Opposite Day (Kid Photographer)
Diary of a Single Mom (J.J, 2009-2010, 16 episodes)
2010
True Jackson, VP (Joe, 1 episode)
Diary of a Single Mom (J.J, 2009-2010, 16 episodes)
2011
2012
Young Justice (Garfield Logan/Beast Boy, 2012-2017)
2013
External links
References
Ad blocker interference detected!
Wikia is a free-to-use site that makes money from advertising. We have a modified experience for viewers using ad blockers

Wikia is not accessible if you've made further modifications. Remove the custom ad blocker rule(s) and the page will load as expected.