Leslie
Talk

0
647pages on
this wiki
Leslie
Character Information
Leslie is a supporting character in The Amazing World of Gumball. He is a delicate flower who is in Miss Simian's class at Elmore Junior High. He is Penny's cousin, as revealed in "The Flower."
Personality
Leslie is gentle and overly. He is hyper and creepy. similar to Banana Joe but he seems to be more intelligent than him. He can also be very effeminate and hangs out around The Treehouse Girls. Possibly for this reason. Leslie is great at giving relationship advice. He plays the flute in the school band. Many people confuse him for a girl due to his feminine traits. He often says malapropisms (e.g., using "grapefruit" when he meant "grateful").
Appearance
Leslie is a pink flower, similar in appearance to a daisy, who stays grounded in a blue flowerpot. He has a thin green stem coming out of the pot, which he uses to move his head around and two long leaves extend from his stem, which are used as his arms.
Episode Appearances
Prototype
Season 1
Season 2
"The Fridge": He was seen playing the saxophone on Gumball's flashback.
"The Flower": He starts hanging out with Penny, making Gumball jealous.
"The Apology": He is shown losing his petals after looking at Miss Simian's butt.
"The Words": Leslie gets yelled at by Darwin when Gumball is trying to force Darwin to tell Leslie how annoying he is. Leslie is on the telephone and one of his petals gets blown off in the strong wind of Darwin's yelling.
"Christmas": He appears in the Christmas is Cancelled number.
"The Bumpkin": In the school playground.
"The Sidekick": He can be seen through the class door at the beginning, and is seen later in the cafeteria
"The Dream": He is seen in Miss Simian's class.
"The Photo": He is seen waiting in the line at the beginning of the episode.
Gallery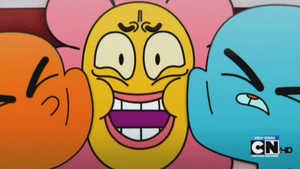 The gallery for Leslie can be found here.
Trivia
He is one of two male characters that look and sound feminine, the other being Alan.
It is revealed in "The Flower" that he is Penny's cousin.
Leslie plays the flute in the school band.

However, contrary to this, Leslie was seen playing the saxophone in "The Fridge."

In the European Spanish translation, he is often treated as a girl.
In Season 2, Leslie gets eyebrows.
In the "Early reel", Leslie's petals are blue.
According to the episode "The Flower" Leslie does not have his own bedroom.
Although Leslie is a boy, in the episode "The Pressure" he was seen in the all girls club.