"Mixed up!"

This article is very similar to Ripley 2000. You may want to consider merging it!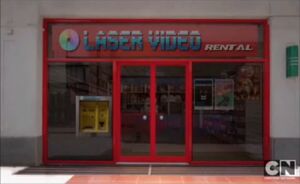 Laser Video is a location in The Amazing World of Gumball. It is a video rental store in Elmore. Larry works there as a cashier, as he does with most other stores in Elmore.
Episode Appearances
Season 1
"The DVD": Gumball and Darwin make a fake DVD of Alligators on a Train to return to Laser Video.
"The Refund": Gumball, Darwin and Richard attempt to make a refund after buying a video game unavailable on their system.
Season 3
"The Pizza": In Gumball's flashback, he, along with Darwin and Anais rent a DVD.
Season 4
"The Disaster": Gumball and Darwin look for video games in the bargain bin.
Season 5
Trivia
If you look closely in the background, you can see boxes with a controller on the box art. This reveals that Laser Video possibly sells controllers as well.
There are also TV sets in the background. A TV is sitting on the cashier table, as seen in "The DVD." This hints at the possibility of Laser Video selling TV sets.
"Laser Video" is an obvious name hybrid of "Family Video" and "Laser Disc."
Gallery
Ad blocker interference detected!
Wikia is a free-to-use site that makes money from advertising. We have a modified experience for viewers using ad blockers

Wikia is not accessible if you've made further modifications. Remove the custom ad blocker rule(s) and the page will load as expected.