Kwesi Boakye
Talk

0
650pages on
this wiki
Kwesi Boakye
Gender:
Male
Age:
14
Born:
April 6, 1999
Character:
Darwin Watterson
Occupation:
Actor
Kwesi Boakye
(born April 6, 1999) is an actor who currently voices
Darwin Watterson
in
The Amazing World of Gumball
. He is currently most famous for his role as Manny from the movie,
I Can Do Bad All By Myself
.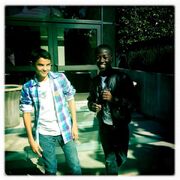 Appearances
Edit
Star Wars Episode III,: Revenge of the Sith (as a crab droid, uncredited)
Strong Medicene (as Lovonne, 1 episode)
Inconceivable (Kid, 1 episode)
The Shield (as Wendell, 1 episode)
Day of our Lives (as Artemis/Scott, 18 episodes)
Day Break (as James Mathis, 5 episodes)
"Til Death (Kid, 1 episode)
If I Had Known I Was a Genius (Unknown Role)
Ni Hao, Kia-Lan (Voice of Mr.Hoppy, 1 episode)
Boston Legal (as Turnip, 1 episode)
I Can Do Bad All By Myself (as Manny)
The Princess and The Frog (Voice of a Newspaper Boy and others)
Valentine's Day (Soccer Kid, Film)
Faith and Dreams (Student, Short Film)
Special Agent Oso (Andrew, TV Episode "Thunderbubble"
Hawthome (as William Glass, 1 episode)
2011/2012Edit
Men of a Certain Age (as Jamie Thoreau, 14 episodes)
The Amazing World of Gumball (The voice of Darwin Watterson)
Southland (as Richard, African American boy)
The Looney Tunes Show (The voice of Gossamer)
Hawaii Five-0 (as Kevin, 1 episode)
The Mentalist (as Anthony Rome, 1 episode)
The Legion of Extraordinary Dancers (Young Narrator, 2 episodes)
Community (as Elijah Bennett, 2 episodes)
Touch (as Faria, 1 episode)
Unconditional (as Macon, Film)
Coincidentally, he is younger than Logan Grove, much like how Darwin is younger than Gumball.
Kwesi has two brothers who are also actors: Kwame Boateng and Kofi Siriboe.
He is the great-grandson of a respected Ghana West African King.
Each of the three voice actors for the Watterson children have roles in other shows on Cartoon Network. Logan Grove (who plays Gumball) voices Garfield Logan in Young Justice (episode "Image"), Kwesi Boakye (who plays Darwin) voices Gossamer in The Looney Tunes Show and Kyla Rae Kowaleski (who plays Anais) voices Me-Mow in Adventure Time (episode "Jake vs. Me-Mow").
External links
Edit