"YAAAAAY!!!!"
This is a Featured Article. This page was selected as Featured Article on the main page. A new article will be elected soon.
Thank you for supporting the Gumball Wiki.
Kenneth
Character Information
Kenneth is a minor character in The Amazing World of Gumball. He is a monster made entirely out of disgusting things that was created by Gumball in "The Microwave."
Appearance
Kenneth was created by mixing together various disgusting things (snotty tissues, bird feces, and regurgitated spoiled milk) in a jar, which was then put through the microwave. After this, the gross mixture somehow gained a life of its own. Kenneth is a greyish-brown vaguely humanoid monster. He seems to have a very loose body form, and he looks constantly runny. Kenneth has a large mouth filled with razor sharp teeth, and when he grows to a larger size, his eyes start to glow white.
Personality
Kenneth seems to be a malicious and dangerous beast. The only thing he seems to enjoy doing is eating people, and once he manages to eat someone, he grows a little bit bigger. He first attacks Gumball and Darwin, but they mistake it for simple hunger, so they feed it. Eventually, he then eats the mailman and Anais, but does not want to eat Gumball and Darwin, which shows that when it was made, he was a bit sympathetic towards them. However, when he ate Richard, he seems to have lost his sympathy towards the duo who claimed to be his mother and father, then proceeds to attack them.
Episode Appearances
Season 1
"The Microwave": Kenneth was created when numerous disgusting things Gumball had collected in a jar were irradiated in the microwave by an unwitting Richard. Gumball and a partially reluctant Darwin initially tried to raise Kenneth as their child, but Kenneth grew increasingly violent and dangerous; eating the mailman, Anais and Richard and growing larger and more monstrous, then going after Darwin and Gumball, eating Nicole, and stalking outside in the Wattersons' backyard. Gumball and Darwin eventually went out to fight and confront the now-monstrously large Kenneth and save his eaten victims, and Kenneth was defeated when a hose partially in his mouth was turned on, filling him up with water, which caused Kenneth to explode from the water pressure; releasing everything he'd eaten and reducing him back to his original baby size and behavior. Gumball talked the Wattersons out of killing Kenneth, and thought they could raise Kenneth better this time; however, Gumball and Darwin began to regret this when Kenneth grew even bigger and more monstrous than before, and went on a destructive rampage through Elmore.
Season 2
"The Finale": When the Wattersons decided to cause maximum devastation in Elmore to clear away their past debts, Richard and Anais released Kenneth, who had been reduced back to his baby size, and frozen in the Wattersons' freezer after the events of "The Microwave." He then quickly grew to his monstrous size, and went on a rampage again, and the Wattersons lured Kenneth into a giant-monster fight with Hector.
Season 3
"The Name": He makes a cameo in Gumball's subconscious.
Gallery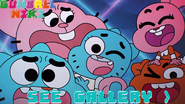 Click here to view the gallery.
Trivia
Kenneth and his motives seem to be inspired by the monster from the classic movie The Blob.
It is unknown how he was shrunk down and captured after what happened in "The Microwave."