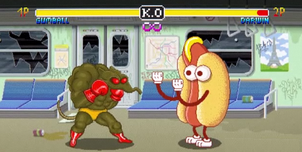 Kebab Fighter is a fictional fighting video game that makes occasional appearances throughout the series. So far, the only players seen are Gumball, Tobias, Darwin and Richard. The only two fighters featured in the game so far is a muscular rat with a boxer like outfit and a hot dog with eyes and mustard for hair. This duo has also been seen on posters. The only known stage in which fights take place is in a broken, run-down subway with a route map, an Eiffel Tower poster, two empty cans, and various graffiti.
Trivia
The game resembles a combination of Mortal Kombat and Street Fighter.
The life bars are based on the life bars from Street Fighter II.
The stage background is based on the subway section of Subway Park from Final Fight, especially the blue seats, handrails, and broken windows.
The music that plays in the game is Guile's theme from Street Fighter. This may be a reference to the theme's popularity on the Internet.
There is a poster of Kebab Fighter in Gumball and Darwin's apartment in "The Mustache." The same poster is seen in "The Responsible."
When one fighter's health is completely depleted, the words "END IT" appear and the other player must finish his opponent off. This is a parody of Fatalities and "Finish him/her!" in Mortal Kombat.
In "The Words," Gumball and Darwin play a live action version of this, though they use words as attacks and combos, and it is more like Street Fighter.
There is a possible sequel to this game. In "The Responsible," Gumball holds up the game and on the front cover, you see the muscular rat and a roman numeral for two on it.
In "The World," the muscular rat appears to have a little redesign. He is now a female instead of a male, recolored to pink, got eyelashes, new eyes, recolored shorts to light blue, and a light blue sweater around his neck.
The game is playable on Cartoon Network UK's mobile site, although the muscular rat is the only character you can play as. He's also in his season 1 design instead of being in his female season 2 design.
External links
Gallery
Ad blocker interference detected!
Wikia is a free-to-use site that makes money from advertising. We have a modified experience for viewers using ad blockers

Wikia is not accessible if you've made further modifications. Remove the custom ad blocker rule(s) and the page will load as expected.