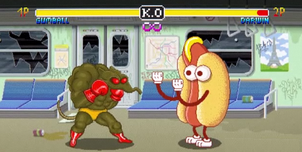 Kebab Fighter is a fictional fighting video game that makes occasional appearances throughout the series. So far, the only players seen are Gumball, Tobias, Darwin and Richard. The only two fighters featured in the game so far is a muscular rat with a boxer like outfit and a hot dog with eyes and mustard for hair. This duo has also been seen on posters. The only known stage in which fights take place is in a broken, run-down subway with a route map, an Eiffel Tower poster, two empty cans, and various graffiti.
Episode Appearances
Season 1
Season 2
Season 3
Season 4
Season 5
Gallery
Trivia
External links
Ad blocker interference detected!
Wikia is a free-to-use site that makes money from advertising. We have a modified experience for viewers using ad blockers

Wikia is not accessible if you've made further modifications. Remove the custom ad blocker rule(s) and the page will load as expected.