Joyful Burger is a minor location in The Amazing World of Gumball. It is a fast food restaurant/chain with multiple franchises in Elmore. The only known employee is Larry, who is the cashier. So far, three have been seen: one in "The Ghost," where Carrie used Gumball's body to gorge herself, another one in "The Bumpkin," where Richard took his family for lunch, and another seen inside the mall in "The Money." However, in "The Menu," there are shown to be multiple Joyful Burger restaurants scattered throughout Elmore, all of which have to be eaten from in order to achieve access to their secret burger, The M'Guffin.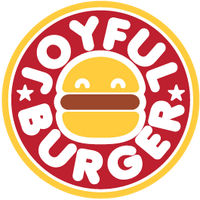 Episode Appearances
Season 1
Season 2
Season 3
Season 4
Season 5
Gallery
Ad blocker interference detected!
Wikia is a free-to-use site that makes money from advertising. We have a modified experience for viewers using ad blockers

Wikia is not accessible if you've made further modifications. Remove the custom ad blocker rule(s) and the page will load as expected.