Jamie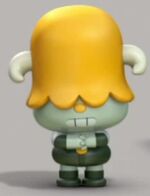 Character Information
Gender:
Female ♀
Species:
Troglodyte cow
Age:
13
Friends:
Tina
Enemies:
Miss Simian, Penny, Gumball, Darwin, Alan, Rocky, Carrie, Anton, Leslie, Teri, Banana Joe, Sarah
Relatives:
Coach (mother), unnamed father
Occupation:
Student
First Appearance:
"The Third"
Voice:
Jessica McDonald (Seasons 1 and 2 only)


Maria Teresa Creasey (Season 3 onwards)

Gallery

Color Scheme
coat
cloth
eye
horns

none
Jamie is a supporting character in The Amazing World of Gumball. She is Tina's sidekick, and possibly her only real friend. 
Appearance
Jamie seems to be a hybrid of many different species of animal. She has the traits of an ox, which would be her horns, large teeth and hooves, a lion, which would be her tail and orange coloring, a frog, which would be her skin coloring, and various other animal species as well.
Jamie has bright orange hair with small, curved horns sticking out of the sides. Her hair covers most of her head, and partially covers her eyes. Her skin is a greenish-white, and she has stocky arms and legs. Jamie also wears a mint green T-shirt, that is barely visible and dark green pants.
In Season 2, her skin is now a darker green, her voice slightly changes, and is less feminine.
In Season 3, her voice changes once again, and her eyes are now fully covered.
Personality
Jamie is a tomboy, and one of the bullies of Elmore Junior High. She is tough and mean-spirited, loving nothing more than to pick on some of the weaker children with her best friend, Tina Rex. While Jamie could be considered the bully that goes for an emotional approach, tormenting them with insult after insult, Tina goes for more physical torture, crushing anyone she feels like crushing.
Miss Simian held her back a year, forcing her to have brand new classmates who are younger than her. As such, Jamie despises her new classmates. Probably since Miss Simian held her back, she also shows an extreme dislike towards authority in general.
Episode Appearances
Season 1
Season 2
Season 3
Gallery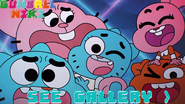 Click here to view the gallery.
Quotes
"

Jamie: "What, are you gonna get a girlfriend?"

"

—Jamie in "The Gi"
"

Jamie: "Hey, look! I'm gonna throw the TV out the window!"

"

—Jamie in "The Party"
"

Jamie: "Yeah, that was funny, but good luck when Tina comes back and your mom's not around to hold your hand."

"

—Jamie in "The Meddler"
"

Jamie: [cuts in line in front of Darwin] "What?"
Darwin: "Uhh..."
Jamie: "Yeah, that's what I thought."

"

—Jamie in "The Words"
"

Gumball: "Hey, stop calling me names! I thought you wanted them to split up anyway! You hated them!"
Jamie: Yeah, well now we hate you!"

"

—Jamie in "The Storm"
"

Jamie: "Hey, Watterson! If your sweat reaches me, I'm going to invite you to a pain party, where the only guests are you, me and my fists!"
Gumball: It's not sweat, it's my organs crying.

"

—Jamie in "The Coach"
Trivia