Jackie Wilson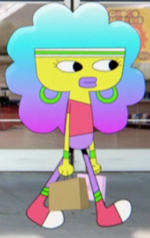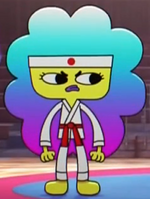 Character Information
Jackie Wilson [1] is a recurring character in The Amazing World of Gumball. She is the mother of Tobias and Rachel, and the wife of Harold. She has made numerous cameos throughout the series. Her first major role was in "The Mothers."
Appearance
She shares numerous traits with Tobias and Rachel, her lips are purple, and her eyes look like those of Tobias. Her skin is colored chartreuse, and her hair is light blue, deep blue, purple and magenta. Her shirt is violet-red, and her pants are purple. She wears green wrist bands and green socks. She also wears violet-red shoes and a green and white striped headband with green earrings. Starting from Season 2, her shirt has no sleeves, the shadow under her body was lightened, and she has gained eyebrows.
Episode Appearances
Season 1
Season 2
Season 3
Season 4
Season 5
Gallery

Click here to view the gallery.
Trivia
References
Ad blocker interference detected!
Wikia is a free-to-use site that makes money from advertising. We have a modified experience for viewers using ad blockers

Wikia is not accessible if you've made further modifications. Remove the custom ad blocker rule(s) and the page will load as expected.