Idaho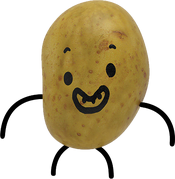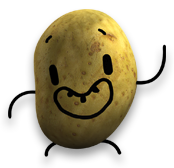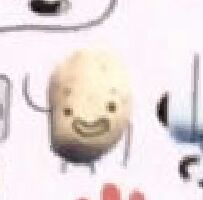 Character Information
Idaho is a supporting character in The Amazing World of Gumball. He is a little potato from the countryside who follows beliefs and manners similar to the mannerism of the Amish.
Appearance
Idaho is an anthropomorphic potato, with a face, arms, and legs, all drawn in black. He is very small, and is quite possibly the tiniest character in the show so far (excluding Virus). In Season 2, his face gets smaller, and he becomes slightly darker.
Personality
Idaho, having been born and raised in the countryside, follows Amish beliefs and mannerisms, and speaks with a Southern twang. He also does not seem to be very bright.
Episode Appearances
Prototype
Season 1
Season 2
Season 3
Season 4
Season 5
Season 6
Scrapped episode
Quotes
"

Darwin: A love this special only comes around once in a lifetime. We must nurture it, take care of it, let it grow and blossom like a… a…
Idaho: A potato?
Darwin: A potato!

"
—"The Dress"
| | | |
| --- | --- | --- |
| " | I'm doin' the mashed potato! | " |
"

[When blind-folded, feeling up a golf ball]
Idaho: Mama? [Hit by a golf club] AAAAAAAAAAAGGGHH!

"
| | | |
| --- | --- | --- |
| " | My name is Idaho, and this is the flying potato. | " |
| | | |
| --- | --- | --- |
| " | Sorry, man. You're just not cool enough. | " |
Voice Actors
Gallery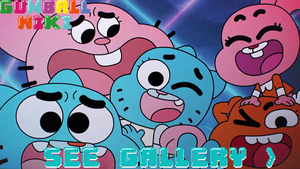 Click here to view the gallery.
Trivia
Idaho's name is based on the state of Idaho, which is sometimes called "The Potato State."
Idaho is the smallest supporting character, and the smallest character in the show (excluding Virus).
In "The Sock," when Darwin tells Tobias that Idaho did not invite him to his party, Idaho's accent is less of a countryside one and instead, turns into a normal American accent.
In the early concept poster, Idaho had a lighter color.
On the DVD case, he is shown with six teeth, but he actually only has three.
Idaho's first major role was in "The Bumpkin."
Idaho was possibly the only survivor of the Joy Virus who was not cured or absent in the episode.
In the Brazilian dub, his name is "Batata", which literally means "Potato" in Portuguese.
Despite singing off-key in "The Bumpkin", in "The Scam" he is shown to be an exceptional singer.
His family bears an appearance to that of the Amish, which could mean that he is too.

If that is true, he may be living in Elmore because of the Amish rite of passage tradition called Rumspringa.

Like Anton, he has been shown to get hurt easily, such as in:
Ad blocker interference detected!
Wikia is a free-to-use site that makes money from advertising. We have a modified experience for viewers using ad blockers

Wikia is not accessible if you've made further modifications. Remove the custom ad blocker rule(s) and the page will load as expected.