"Obviously something is missing, you notice it too?"
This article is a stub. Please help the Gumball Wiki by expanding it.
Thank you!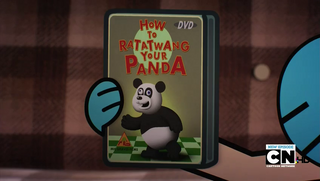 How to Ratatwang Your Panda
is a mockbuster movie produced by "
Mic Graves
Films." Its first appearance was in "
The Treasure
."
It's a parody of Kung Fu Panda, a origanal movie by DreamWorks or Little Panda Fighter, a Brizillian knockoff of Kung Fu Panda by Morningstar Entertainment.
Characters
Panda (a possible protagonist)
Good Rat (a possible protagonist)
Bad Rats (are possible antagonists)
Gallery
Trivia