"Obviously something is missing, you notice it too?"
This article is a stub. Please help the Gumball Wiki by expanding it.
Thank you!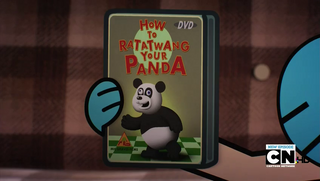 How to Ratatwang Your Panda
is a mockbuster movie produced by "
Mic Graves
Films." Its first appearance was in "
The Treasure
."
It's a parody of Kung Fu Panda, an original movie by DreamWorks or Little Panda Fighter, a Brazillian knockoff of Kung Fu Panda by Morningstar Entertainment.
It is presumed that this film was sent to the Void, as the character models can be seen in the Void.
Characters
Panda (a possible protagonist)
Good Rat (a possible protagonist)
Bad Rats (are possible antagonists)
Gallery
Trivia
This film is a parody of two mockbuster films by the Brazilian animation studio Video Brinquedo: The Little Panda Fighter (DreamWorks' Kung Fu Panda), and Ratatoing (Pixar's Ratatouille). The conjunction of the two titles is a reference to another one of DreamWorks' movies, How to Train Your Dragon.
The film's characters make a cameo in "The Void."
The DVD appears again in "The Man" as part of Gumball's Rube Goldberg machine.
The film company; Mic Graves Films is a reference to one of the shows producers, Mic Graves.
Ad blocker interference detected!
Wikia is a free-to-use site that makes money from advertising. We have a modified experience for viewers using ad blockers

Wikia is not accessible if you've made further modifications. Remove the custom ad blocker rule(s) and the page will load as expected.