Hexagon Lady
Character Information
The Hexagon Lady is a minor character in The Amazing World of Gumball. Her first appearance was in "The Watch," where she was seen on a date with Marvin. As shown in "The Limit," she works at Elmore Shopping.
Appearance
She appears to have a hexagon-shaped head in the color of black, along with rainbow-styled hair. She also wears a pearl necklace with a gold keychain which looks like a diamond in the clasp.
Episode Appearances
Season 2
Season 3
Season 4
"The Others": She can be seen in a crowd of citizens near the end of the episode.
"The Signature": She can be seen talking in front of a window.
"The Traitor": She is seen at the cinema.
Season 5
Gallery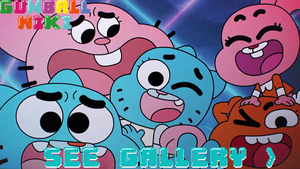 Click here to view the gallery.
Trivia
In "The Watch," Darwin states that her advert says nobody over 25, meaning she should be around the same age.
She looks a bit like Gothita from Pokemon, the other reference being Martin Peaches.
Ad blocker interference detected!
Wikia is a free-to-use site that makes money from advertising. We have a modified experience for viewers using ad blockers

Wikia is not accessible if you've made further modifications. Remove the custom ad blocker rule(s) and the page will load as expected.