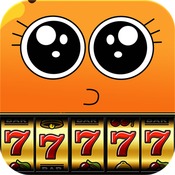 Gumball Slots is a free app based on The Amazing World of Gumball. It was released on November 2, 2012.
Gameplay
Each player is given a starting balance of 30 coins. They can bet either 5, 10, 25, 50, 100, 500 or 1000 coins to spin the slots. Bonuses can be unlocked by achieving some combos.
Cast
Gallery
Trivia
This is not an official Cartoon Network app - it was made by app developer F Smith.
External links
Ad blocker interference detected!
Wikia is a free-to-use site that makes money from advertising. We have a modified experience for viewers using ad blockers

Wikia is not accessible if you've made further modifications. Remove the custom ad blocker rule(s) and the page will load as expected.