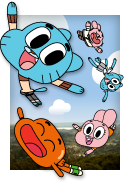 Gumball Caption Gallery allows you to caption in your favorite characters' animated GIF pictures for other people to view your captions! You can also comment on your captions. To actually comment on the GIF, it takes you to the Cartoon Network blog.
Links
You were able to make your own captions here, but the link has been deleted for years. However, you can view an overview of the site here.
GIFs
Ad blocker interference detected!
Wikia is a free-to-use site that makes money from advertising. We have a modified experience for viewers using ad blockers

Wikia is not accessible if you've made further modifications. Remove the custom ad blocker rule(s) and the page will load as expected.