Grady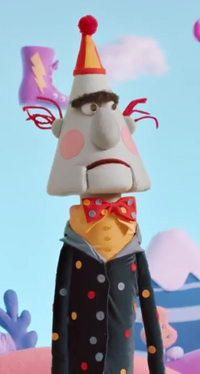 Character Information
Grady is a minor character in The Amazing World of Gumball. He makes his first and only appearance in "The Puppets." He also appears in the minisode series, "Waiting For Gumball."
Appearence
Grady is a tall puppet with a grey triangular head. He wears a suit covered in polka dots and a mustard yellow shirt underneath. He also wears a bowtie and a circus hat.
Gallery
Miscellaneous
Trivia
Grady bears a slight resemblance to Mr. Robinson. It is unknown if this is intentional or not.
Ad blocker interference detected!
Wikia is a free-to-use site that makes money from advertising. We have a modified experience for viewers using ad blockers

Wikia is not accessible if you've made further modifications. Remove the custom ad blocker rule(s) and the page will load as expected.