Fuzzball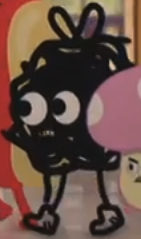 Character Information
| | |
| --- | --- |
| Gender: | Male ♂ |
| Species: | Fuzz |
| Friends: | Rachel (possibly) |
| Occupation: | Student |
| First Appearance: | "The Third" |
| Voice: | Unknown |
The Fuzzball is a minor character in The Amazing World of Gumball. Sometimes in Season 1, he was seen sitting with Rachel, but it is unknown if they are friends. He reappears in the episode "The Extras" and also has his first speaking role in the same episode. He is seen singing angrily along with the other background characters towards Gumball and Darwin.
Appearance
Fuzzball is, as his name implies, a black fuzzball made up of scribbles. He has stubby arms and long legs. The only clothes he seems to wear are outlined, black sneakers. On the top of his head appears to be a knot of some sort, which is made of the same scribble the rest of his body is made up of.
Episode Appearances
Season 1
Season 2
Season 3
Gallery
Trivia
He makes no appearances in Seasons 4 and 5.
Ad blocker interference detected!
Wikia is a free-to-use site that makes money from advertising. We have a modified experience for viewers using ad blockers

Wikia is not accessible if you've made further modifications. Remove the custom ad blocker rule(s) and the page will load as expected.