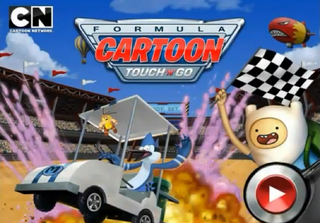 Formula Cartoon: Touch 'N' Go is a mobile app game on iOS and is the mobile version of Formula Cartoon.
In this game, Gumball appeared as a playable race driver. He's has the most handling skill of all four free racers. Also it has its own track sets. They are eight tracks in all. Getting first on each track will receive a Gumball coin and getting all Gumball coins in this track set will get a Gumball trophy.
Gallery
External links
Ad blocker interference detected!
Wikia is a free-to-use site that makes money from advertising. We have a modified experience for viewers using ad blockers

Wikia is not accessible if you've made further modifications. Remove the custom ad blocker rule(s) and the page will load as expected.