Evil Turtle
Character Information
The Evil Turtle was the pet of Gumball, Darwin, and Anais. She made her first appearance in "The Puppy." She was accidentally bought by Richard.
Appearance
The Evil Turtle is likely an African softshell, the only living member of the Trionyx genus. She has a long, wrinkly neck, and a small, protruding snout. Her carapace and head are olive in coloration, while her plastron is mint. Darwin notes that she smells "like a belly button."
Personality
She focuses all of her efforts into biting people. She is also practically invincible, being able to survive a direct hit from a car, and leave an explosion unscathed.
Episode Appearances
Season 3
Season 4
"The Nemesis": She can be seen in the background when Gumball and Darwin throw a party for Rob.
"The Traitor": She briefly appears in the background.
"The Compilation": Cameo, and currently her final appearance of the series.
Season 5
Quote
"

Evil Turtle: [thinking] BITE, BITE, BITE! NEED FOOD FOR STRENGTH TO BITE, BITE, BITE! MAKE LITTLE TURTLES TO BITE EVEN MORE!

"
—Evil Turtle in "The Puppy"
Gallery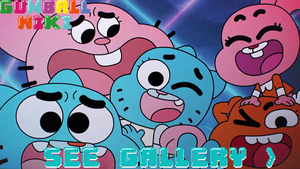 Click here to view the gallery.
Trivia
The turtle's sunlight-induced "death" is a reference to Ben Bocquelet's pet turtle, and how he died from dehydration.

In addition, it is also a reference to the film Gremlins, in which the titular creatures have a weakness to bright light.

The trionyx is also referred to in Latin as occidere machinae ex infernum, meaning "killing machine from Inferno/Hell."
The turtle laughs in a manner similar to Hannibal Lecter.
The turtle can see in infrared vision like the Predator.
"The Nest" reveals that the turtle is a female.

The same episode reveals that she was actually pregnant, rather than just evil.

"The Compilation" marks the turtle's final appearance.
References
Ad blocker interference detected!
Wikia is a free-to-use site that makes money from advertising. We have a modified experience for viewers using ad blockers

Wikia is not accessible if you've made further modifications. Remove the custom ad blocker rule(s) and the page will load as expected.