Elmore Junior High
Comments

0
735pages on
this wiki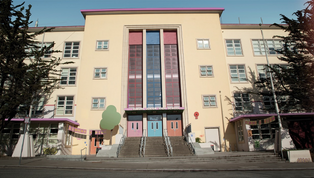 Elmore Junior High School
is a major location in
The Amazing World of Gumball
, It is first seen in "
The Responsible
". It is the city of
Elmore
's local public middle school.
Gumball
,
Anais
, and
Darwin
all attend this school. Anais attends a minor kindergarten program at the school.
Elmore Junior High even has its own cheerleading squad that consists of five known members: Penny, Carmen, Molly, Masami, and Teri.
Episode Appearances
Season 1
Season 2
Students in Miss Simian's Class
Students who are not in Miss Simian's class
Alumni
Faculty
Areas
Clubs
Drama Club
Computer Club
Fantasy Club
Gumball's Club of Gumball (disbanded)
Physics Club
Trivia
The doors on the front entrance of Elmore Junior High match the colours of the main Watterson children; Anais, Gumball, and Darwin.
The school's mascot has been shown to be either a mustang or a duck.
Strangely, Darwin is 10 years old but is a 7th grader like Gumball. He is also not very intelligent, so he could not have skipped grades.
In MiXiT Video Creator, the background of the show has a preview of Elmore Preschool.
Anais attends this school because of her high intelligence, despite being only four years old. She is not in Miss Simian's class with her brothers, instead, she goes to a junior kindergarten class.
The live action shoot of the outside of the school, just barely edited to look apart is from Abraham Lincoln High School in San Francisco and resemble Vallejo houses. Interestingly enough, a lot of the more Victorian houses, like the one in front of the bus stop in "The Gi" look like Vallejo houses, similar to those of SF.
The live action photo location used for the school basketball court was from Lincoln Elementary in the photos down below.
Leslie plays the flute in the school band yet no one else seem's to be in the school band.
On Miss Simian's door, there is a three-eyed smiley face. This is a reference to the 2001 film, Evolution. In "The Genius", Gumball's Brain destroys a picture of Charles Darwin. There seem to be a lot of references to the film in the show.
The school seems to be old, as Richard, Nicole and many other adult characters attended it during their childhoods.
Gallery