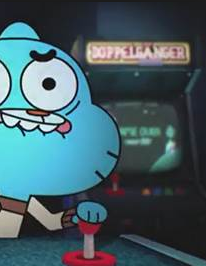 Doppelgänger is a fictional video game based on Street Fighter found in the arcade and in the episode "The Name."
At the beginning of the episode Gumball is seen playing it while Darwin watches him. Gumball has made it to the final level, and gets so nervous he sweats profusely. Darwin suggests button mashing, and Gumball wins with this strategy. He got a top score, but there were only 3 letter spaces for his name, which prompts him to learn his real name. Later in the episode, while Zach was changing Gumball's memories, Gumball comes across the memory of his top score. Gumball recalls it to be the only time he ever won something, but Zach steps in Gumball's way before he can reach it. Zach says Gumball can't beat him because he knows all the combos, but Gumball defeats Zach with button mashing. After this he runs to the console and starts putting in his name, with four extra letter spaces appearing to allot for his full name. After this Zach disintegrates and Gumball is restored.

Trivia
Strangely, every single game in the arcade is Doppelgänger.
Even more strange is the fact that Gumball and Darwin are the only ones in the arcade.
The two characters in the game are identical except for the color scheme. This alludes to how Zach and Gumball are two sides of the same person.
Ad blocker interference detected!
Wikia is a free-to-use site that makes money from advertising. We have a modified experience for viewers using ad blockers

Wikia is not accessible if you've made further modifications. Remove the custom ad blocker rule(s) and the page will load as expected.