Dolphin Man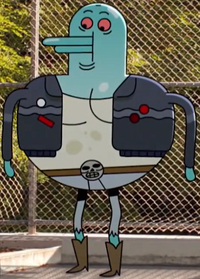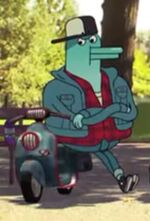 Character Information
The Dolphin Man is a minor character in The Amazing World of Gumball. He made his first appearance in "The Finale."
Appearance
The Dolphin Man is a humanoid dolphin that has a rounded body. He wears a leather jacket and a white shirt with a grease spot, and wears blue jeans with a belt with a skull in the center, and wears brown boots. When he was young, he originally had white eyes, but when Nicole accidentally sprayed paint in his eyes, he now has permanent red eyes.
Episode Appearances
Season 2
"The Finale": He is seen with the prisoners in a jail cell with the Wattersons. He is later seen in the crowd attacking the Wattersons.
Season 3
Season 4
Season 5
Gallery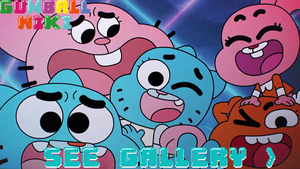 Click here to view the gallery.
Trivia
He might have red eyes because of how he got sprayed in the eyes in "The Choices."
Ad blocker interference detected!
Wikia is a free-to-use site that makes money from advertising. We have a modified experience for viewers using ad blockers

Wikia is not accessible if you've made further modifications. Remove the custom ad blocker rule(s) and the page will load as expected.