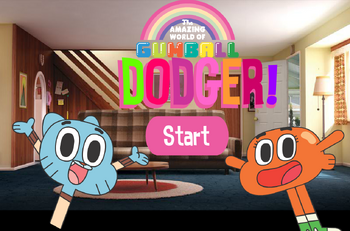 Dodger! (Translated from Spanish: Esquivador!) is a mobile game based on The Amazing World of Gumball. It is available exclusively to CN Latin America overseas mobile phones.
Gameplay
PC
The game starts by clicking on the screen and you take control of Gumball who tries to dodge water balloons thrown by Darwin. A player starts with 4 lives, getting hit by one of the water balloons will stun Gumball and causes him to lose a life. And as time passes by, extra lives will appear on the ground which adds to your current lives. You need to navigate Gumball by clicking on the screen to dodge incoming water balloons. The longer the game goes, the faster Darwin throws the balloons. The game ends when you lose all of your lives.
iOS/Android
TBA
Cast
Gallery
Trivia
It is possible to play this game on the PC.
External Links
Ad blocker interference detected!
Wikia is a free-to-use site that makes money from advertising. We have a modified experience for viewers using ad blockers

Wikia is not accessible if you've made further modifications. Remove the custom ad blocker rule(s) and the page will load as expected.