Cupcake Woman
Comments

0
770pages on
this wiki
Cupcake Woman
Character Information
Cupcake Woman is a minor character in The Amazing World of Gumball. She seems to dislike children and her job as she says most things in an indifferent voice. 
Appearance
Cupcake Woman is an anthropomorphic cupcake. Her height is inconsistent, because in her first appearance, she is around the same height as Gumball, but in her second appearance, her legs are very long, and she is much taller than him.
Her head is a light shade of purple fading to blue, and a small amount of white sprinkles dot her head. Her body is a light shade of pink.
Episode Appearances
Season 1
"The Mustache": She appears when Gumball and Darwin are applying for a job.
Season 2
"The Bumpkin": She is seen in one of the cars on the expressway.
"The Internet": She is one of the drivers involved in a massive pile-up.
"The Finale": She works at the Justice Department, and she keeps massive, tall files on the Wattersons and their reckless behaviors.
Gallery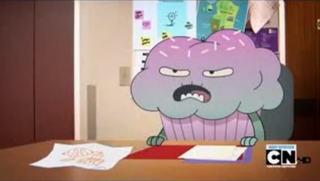 The gallery for Cupcake Woman can be found here.
Quotes
"

Look, for the third time Mr. Watterson, rolling your stomach is not a valuable skill in the work environment.

"

—Cupcake Woman to Gumball in "The Mustache"
"

Okay boys how did the tests go- Ahhhhhh!

"

—Cupcake Woman in "The DVD"