Crocodile Woman
Character Information
The Crocodile Woman is a minor character in The Amazing World of Gumball. Her first appearance was in the episode "The Fridge," in which she fought Gumball for a discounted chicken under the guidance of Nicole. She also appeared in "The Job," where she complained that it was snowing during June.
Appearance
The Crocodile Woman is an elderly, pale-blue skinned crocodile. She wears a green dress with a matching beanie. She has white hair, and yellow eyes with black pupils. Her eyes, lips, arms, and legs are all very wrinkly.
According to Rocky, she has 87 teeth and her butt is 5 foot wide.
Personality
The Crocodile Woman is portrayed as being somewhat aggressive when things get in her way, such as when she gets into a fight with Gumball in "The Fridge" or when she "bingo-wings" Darwin, who is forced to hold up the check-out line for Zach, in "The Name." 
She is also seen as particularly lonely, such as in "The Butterfly," when she is quick to accept what she believes to be a proposal from Rocky while outlining how long she had been waiting for that moment. She finds a level of affection in her cat, Martin, whom she believes to be a real boy.
Episode Appearances
Season 2
"The Fridge": Her first appearance in the series. She and Gumball fight each other for a discounted chicken.
"The Job": She complains about the weather, and says it was supposed to be June.
"The Promise": She gets hit in the head by a peanut butter jar thrown by Gumball.
"The Castle": Her trolley full of groceries gets stolen by Richard.
"The Internet": She appears during the car pile-up.
"The Tape": She makes a cameo in one of Gumball's videotapes.
"The World": She is seen grocery shopping during "The Amazing World of Elmore" montage.
Season 3
Season 4
Season 5
Season 6
Trivia
Rocky mistakes her for an alligator. This is similar to how people usually mistake alligators for crocodiles.
Gallery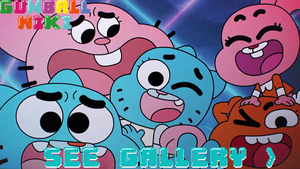 Click here to view the gallery.
Ad blocker interference detected!
Wikia is a free-to-use site that makes money from advertising. We have a modified experience for viewers using ad blockers

Wikia is not accessible if you've made further modifications. Remove the custom ad blocker rule(s) and the page will load as expected.