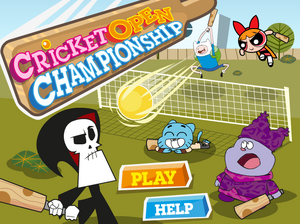 Cricket Open Championship is a two-player online game. It is available on some CN Asia Pacific sites.
Gumball appears as a playable character in this game.
Gameplay
TBA
Gallery
Trivia
This game is not available in CN Asia and Philippines.
There is no AI in this game, nor is there online matchmaking. Two players must share a computer to play the game.
The game does not actually resemble cricket, but presented as a strange tennis game played with cricket bats.
External Links
Ad blocker interference detected!
Wikia is a free-to-use site that makes money from advertising. We have a modified experience for viewers using ad blockers

Wikia is not accessible if you've made further modifications. Remove the custom ad blocker rule(s) and the page will load as expected.