Construction Men
Character Information
The Construction Men are recurring characters in The Amazing World of Gumball. They first appeared in "The Knights." They presumably work for Fitzgerald Co. Limited under Penny's father, Patrick Fitzgerald.
The red construction man's name is Hank, and the gray one's name is George. There is also a third blue one called Steve, who appears in "The Extras," "The Gripes," "The Return," and "The Misunderstandings." In "The Shell," an unnamed yellow construction man is introduced.
Appearance
The Construction Men are heavily built construction workers. They have Lego-like hands, perfect for their craft. They have typical construction worker uniforms: Hank wears denim overalls, and George wears an orange vest. They also wear yellow hard hats and brown work boots. Steve had used to have red hair but as of "The Misunderstandings" he doesn't have it anymore.
Personality
In "The Misunderstandings," the Construction Men admit they don't usually socialize with other people, and as a result, their behavior can be seen as inappropriate. Though they are not at all ill-intentioned, and even attempt to "brighten Gumball's day," their genuine compliments seem mocking or creepy.
Episode Appearances
Season 2
Season 3
Season 4
Season 5
Season 6
Gallery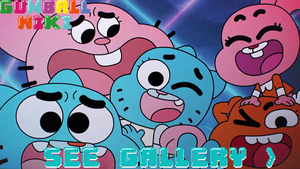 Click here to view the gallery.
Trivia
They resemble Lego mini-figures.
Hank has a son named Bobby, who only appeared in "The Butterfly." He also has a wife who was mentioned in "The Parking."

Their names and relation are exactly the same as Hank and Bobby Hill from King of the Hill.

In "The Boredom," it is revealed Hank is colorblind.