"YAAAAAY!!!!"
This is a Featured Article. This page was selected as Featured Article on the main page. A new article will be elected soon.
Thank you for supporting the Gumball Wiki.
Clayton

Character Information
Clayton is a minor character in The Amazing World of Gumball. He is one of the various students in Miss Simian's classroom.
Appearance
Clayton is a living ball of red clay, with big purple lips, and eyes made from clay. He possesses the ability to morph into different shapes. In Season 2, Clayton is given eyebrows, and his clay is more fixed and the inside of his mouth is pink.
Personality
Clayton enjoys telling fantastic stories about his life to impress his friends, but most of these stories are either completely false, or grossly exaggerated.
Clayton also seems to be very lonely; it is implied that before the events of "The Skull," Clayton did not have many friends, and that motivates him to befriend Gumball and Darwin despite their hesitance. Clayton befriends them by lying to them (by which the brothers are later upset); he uses this same tactic on Tobias to gain his trust in "The Move."
In "The Move," Clayton reveals that he finds himself boring and socially awkward and that is why he has a tendency to lie often. In order to find someone to call a friend, he finds it necessary to change who he is.
Episode Appearances
Season 1
Season 2
Season 3
"The Recipe": He greets Anton in the school hallway.
"The Move": His second major role. Gumball and Darwin try to teach him not to lie, with great difficulty.
"The Safety": He can briefly be seen on one of Darwin's surveillance monitors.
Season 4
Season 5
Gallery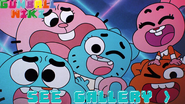 Click here to view the gallery.
Quotes
"

Clayton: "I could build you a bridge!"
Tina: [Steps on Clayton] "No!"

"
---
| | | |
| --- | --- | --- |
| " | "I'm having the time of my life!" | " |
---
"

Clayton: "Why don't you just wet your hair, and say you had a shower?"
Darwin: "Isn't that lying?"
Clayton: "I prefer to call it creative truth."

"
---
"

Gumball: "What is this "finger-touch heart-disintegrating move" nonsense?"
Clayton: "What-it's true! I saw it on TV."

"
---
"

Clayton: "Well. After school, I'm gonna go pirate hunting with the president of the solar system in an underwater theme park where-"
Darwin: "Okay! Okay. Let's just try and take out half the things that aren't true."
Clayton: "Okay. After school, I'm going hunting in a theme park with the president-"
Gumball: "Wow. Even your half-truths are full of absolute bunk."

"
---
| | | |
| --- | --- | --- |
| " | "You're right! I guess being someone is good enough. I don't need to lie anymore. [Hugs Gumball] Thanks dudes!" | " |
---
"

Clayton: "I've got a contagious rash on me-"
Gumball: "WHOA whoa whoa-alright! I'd like to skip this one, thank you very much."

"
---
"

Clayton: "You can't just frame Jamie for knocking out Tobias."
Jamie: "WHAT!? You were gonna frame me for knocking out Tobias?"

"
Trivia
Clayton's animation resembles Claymation, a reference to the fact that he is clay.
Clayton's voice changes in every appearance he speaks. In "The Party," he has a more feminine voice, and more of an accent in "The Dress." In Season 2, he has a different voice altogether.
His first major role was in "The Skull."
Gumball and Darwin chastise him for lying, despite having lied themselves in the past.

Despite this could be caused, because Clayton's lies are more compulsive and unnecessary.

Clayton's mouth color changes from purple to pink as of Season 2.
In his Season 1 design, Clayton did not have eyebrows.
Clayton has the ability to shape shift into other people or objects..
He seems to suffer from mythomania, a behavior in which the victim has the incapacity to talk about past events without nonsensical lies (not be confused with the incapacity of remember past events).
Ad blocker interference detected!
Wikia is a free-to-use site that makes money from advertising. We have a modified experience for viewers using ad blockers

Wikia is not accessible if you've made further modifications. Remove the custom ad blocker rule(s) and the page will load as expected.