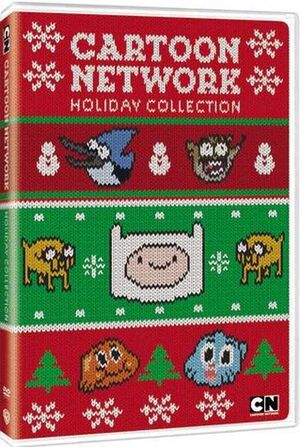 The Cartoon Network Holiday Collection 2014 is a Christmas-themed DVD release of Adventure Time, Regular Show, Clarence, Steven Universe, and The Amazing World of Gumball. The DVD was released on October 7th, 2014.
Episodes
The Amazing World of Gumball - "Christmas"
Adventure Time - "Holly Jolly Secrets Parts I & II"
Regular Show - "The Christmas Special"
Clarence - "Money Broom Wizard"
Steven Universe - "Together Breakfast"
External Links
http://www.toonzone.net/forums/cartoon-network-cartoon-forum/371681-cartoon-network-holiday-collection-october-7-2014-a.html#.U_ePtGK9KK3
Ad blocker interference detected!
Wikia is a free-to-use site that makes money from advertising. We have a modified experience for viewers using ad blockers

Wikia is not accessible if you've made further modifications. Remove the custom ad blocker rule(s) and the page will load as expected.