Carrie
Talk

0
647pages on
this wiki
Carrie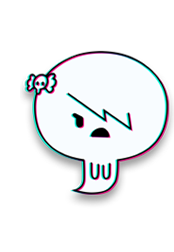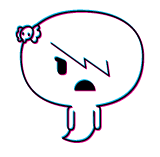 Character Information
Carrie is a supporting character in The Amazing World of Gumball. She is a depressed ghost who is in Miss Simian's class at Elmore Junior High. Her first appearance was a cameo in "The Third".
Appearance
Carrie is a white, translucent ghost with a bow that seems to be a skull with wings. Her arms rest in front of her body, and her hair covers her left eye. She also has a magenta and cyan lining around her, making her seem 3D. When her teeth are visible, they are shown to be sharp and pointed. She normally has black eyebrows.
Personality
Carrie, being an emo, enjoys being miserable. Unlike most emo kids, who usually only hang out with other emos, Carrie is a social floater who will talk to anyone, possibly because Elmore Junior High lacks other emos. She regularly interacts with the other girls and usually participates in Gumball and the rest of the class' antics.
In "The Ghost", she states pain is the only emotion she can feel. Despite this, she has shown other emotions and has been seen smiling on occasion. She is capable of compassion, as she seemed genuinely concerned for Gumball and Darwin's safety in "Halloween". At the end of the episode, she was visibly upset when she thought they had been trapped in the underworld.
Relationships
Main article: Carrie/Relationships
Episode Appearances
Season 1
Season 2
Gallery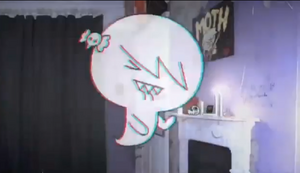 The gallery for Carrie can be found here.
Trivia
In the "Early reel," Carrie was much fatter than she is in the actual show.
Back in early production, Carrie had a simple black outline instead of her usual 3D anaglyph outline.
In "The Ghost", while Carrie was going on a junk food spree in Gumball's body, she took the pickle out of the burger before eating it, implying that Carrie dislikes pickles.
Carrie's 3D anaglyph outline is a reference to old B-horror movies that were occasionally in 3-D.
Despite Carrie's form as a ghost, she can still hold and manipulate physical objects with her hands.
Her reflection doesn't show up in mirrors, which is based on the superstition that undead things don't have reflections. However, when she possesses someone or otherwise inhabits their body, the person will see her reflection instead of their own.
According to James Lamont's Formspring, Carrie's backstory will be explained in a Season 2 episode.
She knew how to get rid of Jealousy, although she stated that she just read it off of the Internet and didn't expect it to work.
In "Halloween", Carrie reveals that she was born a ghost.

This contradicts her earlier statements (as well as those of the creator's and writers') about her having a body when she was younger.

Carrie's surname will be revealed in a Season 3 episode.
In "Halloween", it was revealed Carrie can teleport, albeit with low accuracy.