Marvin Finklehimer
Comments

0
986pages on
this wiki
Redirected from Bert
Marvin Finklehimer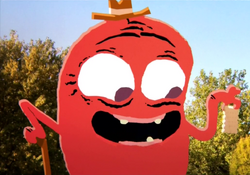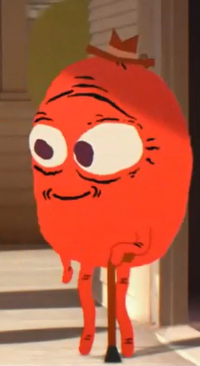 Character Information
Marvin "Bert" Finklehimer is a supporting character in The Amazing World of Gumball. He is an old man who is occasionally seen around Elmore.
Appearance
He looks like a short, red wrinkled bean. He wears a little brown hat, and walks with a cane. He also has only three teeth, and overly large eyes with brown pupils.
Personality
Marvin is a senior citizen who is usually is seen with the rest of the Old Men. He seems to be quite energetic for an old man, as he's seen teasing Anais with a biscuit in "The Responsible," but he's also quite frail, as most elderly people are. He can also be quite stubborn, as shown in "The Watch."
Episode Appearances
Season 1
Season 2
"The Colossus": He is seen sitting down with The Senior Citizens during Hector's rampage.
"The Job": He is seen floating on his chair.
"The Words": He is seen in the background on one of Tobias' photos.
"The Watch": His first major role. Gumball, Darwin, and Richard try to retrieve the family watch from him.
"The Bumpkin": He was seen driving a black car on the expressway.
"The Flakers": Richard runs him over on the street.
"The Pony": He appears walking with a bag with DVDs and bumps into Gumball and Darwin.
"The Tag": He is hit by a garbage bin, and his cane is knocked out of his hand.
"The Tape": He appears in one of Gumball's videotapes.
"The Finale": He watches Richard and Mr. Fitzgerald fight, and later, he is seen with the angry crowd of Elmore citizens attacking the Wattersons during the end of the episode.
Season 3
Gallery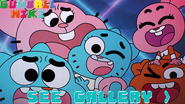 Click here to view the gallery.
Trivia