Benjamin "Ben" Bocquelet
(born June 27, 1980) is a French-born English writer, producer, and animator. He is best known as the creator of the show,
The Amazing World of Gumball.
He described the idea for the show as being "the fruit of a really lucky work experience."
Animation career
Studio AKA
Before creating
The Amazing World of Gumball
, Bocquelet worked on commercials at Studio AKA, where he met people (like
Mic Graves
) who would later take part in the making of his show. He never won a job, as the competition was too strong, but he met people and learned a lot about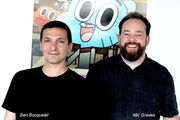 animation and such.
The Amazing World of Gumball
After leaving Studio AKA, Phil Hunt, the creative director there, encouraged him to join the new Cartoon Network studio in London. He helped other people pitch their ideas, and came up with his own idea while doing so. He pitched his idea to the producers. His idea was an Adult Swim show called Gumball about reject cartoon characters attending a remedial school, but producers felt this concept was too sad. He then revised this idea and made it more cheery, taking on the structure of a family sitcom. The producers liked this idea, and work went underway for what would become The Amazing World of Gumball.
Cartoon Network US aired a sneak peek on May 3, and the series officially premiered on May 9 with The Responsible and The DVD. Cartoon Network UK aired The Mystery on May 2 as a sneak peek, and the show officially premiered on September 5 with The DVD and The Third. In March 2011, two months before it aired, the show was renewed for a second season. Season 2's production finished in October of 2012. He, along with the rest of the crew, are currently working on Season 3.
Trivia
In an interview, Bocquelet stated that his favorite character in the show (outside of the main family) is Sussie, because he feels that the character is both elusive and funny, and because she is portrayed by his girlfriend, Aurelie Charbonnier.
In a magazine interview, he states that his favorite episode is The End because it never fails to make him laugh.
At the 2012 BAFTA awards, he states that he is allergic to cats, which is ironic considering the main character in his show is a cat.
External links