Banana Barbara
Character Information
Banana Barbara is a minor character in The Amazing World of Gumball. She is Banana Joe's mother, and the wife of Banana Bob. She and her husband first appeared in "The Responsible."
Appearance
Banana Barbara is an anthropomorphic banana. She is nearly identical to the rest of her family, with the exception of a blue and white polka-dot bow, lipstick, and eyelashes.
In Season 2, she acquired eyebrows and a lighter skin.
Personality
As shown in "The Mothers," Banana Barbara does not seem to be very bright, and is rather oblivious to her surroundings. She has also been shown to have a very creepy demeanor. 
Episode Appearances
Season 1
Season 2
Season 3
Season 4
Season 5
Her Paintings
Barbara has the ability to predict events years before they occur in her paintings. This ability was first displayed in "The Shell," and was a prominent plot point in "The Oracle."
Gallery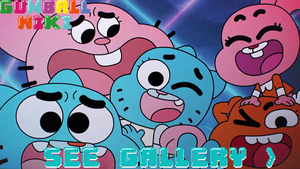 Click here to view the gallery.
Trivia
She and her husband debuted before Banana Joe did (except for the early reel).
Her name was revealed on James Lamont's Formspring.
She has the ability to predict the future through painting, as seen in "The Shell" and "The Oracle."
She is apparently accident-prone, getting frequently injured.
Her ability to paint to future appears to be a reference to Isaac Mendez from Heroes who also had the ability to predict the future through visual art.
Ad blocker interference detected!
Wikia is a free-to-use site that makes money from advertising. We have a modified experience for viewers using ad blockers

Wikia is not accessible if you've made further modifications. Remove the custom ad blocker rule(s) and the page will load as expected.