Alan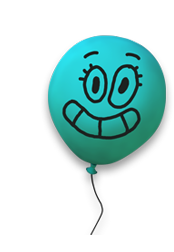 Character Information
Alan Kean is a supporting character in The Amazing World of Gumball. He is a friendly twelve year old chipmunked-voiced teal balloon who attends Elmore Junior High. He is currently dating Carmen.
Appearance
Alan is a slightly deflated, teal colored balloon, whose face is drawn on with permanent marker ink.
In the early reel, Alan seemed to have a nose and freckles, looking more baby-like, but this was taken out when the official series started.
In Season 2 onwards, his design changes very little. Alan has slightly more round/oval shaped eyes than his original design, and he appears to be colored brighter.
Personality
Alan is considered to be "perfect" - he has got good looks, friendly demeanor, and a nice attitude. He has a high-pitched voice, mainly because he is filled with helium. Alan sacrifices himself selflessly in the need of other people and seems to always have the positive outlook on things regardless of how negative they might appear to other people. Even though many people congratulate Alan on his deeds, almost everyone at Elmore Junior High is disgusted by his relationship with Carmen.
Relationships
Main article: Alan/Relationships
Episode Appearances
Prototype
Season 1
Season 2
Season 3
Season 4
Quotes
"

A broken heart is like a mirror. It's better to leave it broken, than to hurt yourself, trying to fix it.

"

—Alan in "The Storm"
"

Dude, I don't have any hands!

"

—Alan in "The Mystery"
"

What's so hard to understand? It's not difficult. Air goes in the knot, air goes out the knot.

"

—Alan to Gumball in "The Storm"
"

Real beauty comes from within.

"

—Alan in "The Photo"
"

[corrects Gumball, who got his name wrong] Alan.

"

—Alan in "The Third"
"

Dude, it's never too late for friendship.

"

—Alan in "The Third"
"

[watching Gumball and Darwin, who are about to "fight"] This would be better with poison nunchucks.

"

—Alan in "The Apology"
"

But, who would date such a shriveled bag of sadness?

"

—Alan in "The Storm"
"

Your best buddy is about to play computer games with someone who's rich, athletic, multicolored, and a good listener! He'll never play Dodj or Daar with you again!

"

—Alan in "The Third"
"

Spaghetti goes in, turns into air, goes back out.

"

—Alan in "The Storm"
"

[Whispering] Whatever makes you happy, my friend.

"

—Alan in "The Saint"
Gallery

Click here to view the gallery.
Trivia
Alan can propel himself through the air without any visible assistance.
Most people who have never seen the show before mistake Alan for a female, possibly because of his eyelashes, which are more common on female characters in animation, and also because of his high voice, which, again, is caused by helium.
Alan can be seen going out with Masami in the early reel.
Alan seems to be able to float without helium on occasions, as in "The Storm," Gumball inflates him up without the use of helium.
Alan's voice is never consistent with each appearance, notably throughout Season 1.
During the first season, Gumball seems to have trouble remembering Alan's name, calling him Alfred, Andrew, Arthur, Alex, etc.
He deflates in response to horrible smells, as shown in "The Ghost."
Alan has popped a total of ten times in the series so far:
In every photo shot Alan appears, his facial features look very realistic and human-like instead of his original face. However, in "The Storm," his pictures, especially with Carmen, shown him with his usual appearance.
It is revealed in "The Photo" that Alan anonymously donates all of his allowance to charity, and never tells anyone about it, because he cares very much about the cause.
It was revealed in "The Storm" that whatever he eats gets turned into air.
If he has a string or not varies in some episodes.
In "The Uploads," it is heavily implied by Bobert that Alan is not really friends with Gumball.
In "The Saint," It is suggested that he is unable to be annoyed or angered by anything.

This can be contradicted, though, because in "The Storm," he stares angrily at Gumball and Carmen when she tries to test their relationship, and he gets angry at Gumball when he tries to talk to Masami, and yells at him to "shut up." He also got mad at Gumball for accusing him of attacking Principal Brown in "The Mystery."
Although at the end of "The Saint," Alan is annoyed by the squeaking noise made by Gumball while walking