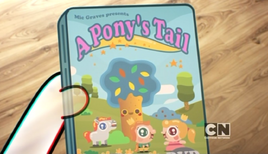 A Pony's Tail is a movie that appears in "The Pony." The movie mocks made-for-DVD movies that are aimed at little girls, mainly My Little Pony. The movie is so terrible that unearthly forces actually prevent anybody from renting it. Ironically, Carrie watches it by mistake and actually likes it.
Episode Appearances
Season 2
Season 3
Season 4
Season 5
Gallery
Trivia
Ad blocker interference detected!
Wikia is a free-to-use site that makes money from advertising. We have a modified experience for viewers using ad blockers

Wikia is not accessible if you've made further modifications. Remove the custom ad blocker rule(s) and the page will load as expected.