Art Contest - April/May 2017
NOTE: THE DUE DATE IS NOW 5/27/2017. THERE WAS AN EXTENSION.
I apologize; the day I made the thread, there were so many dates going through my head. Hopefully, this does not impede anyone's schedule. Sorry.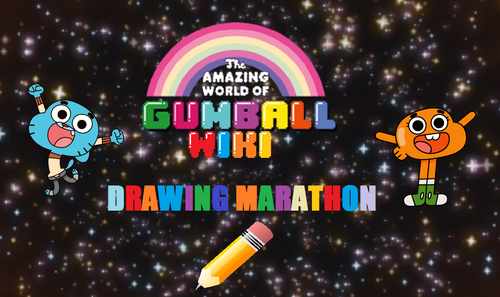 Hello, everyone! I hope everyone has been doing well. That is correct! You have read the title correctly. It is time for the art contest once more!
In other words, welcome to the Gumball's Wiki Art Contest - April/May 2017!
The Purpose
Now as many as of you know, up until three months ago, the art contest was "postponed" (using the term very lightly here). On January of 2017, for the first time in over a year, the contest was revived.
Now, the contest in January served as a "test run" of sorts. It existed to see whether there was still an interest for a wiki-wide art contest. To my surprise, the event proved to be success, bringing in a total of seventeen participants each with his/her own submission.
The success of the previous contest means that this can hopefully become a regular event on the wiki to the same success or perhaps to an even greater success!
The Overview
Now, the point of this event is pretty simple. Artists submit their artwork, and then, the community votes for winning submissions.
What do the winners receive? Well, the three winning pieces well be displayed on the front page for everyone to see. It may not be much, but to have your artwork be shown to Gumball fans that visit this wiki is something to take pride in, in my opinion.
Yes, I am aware that the photo displays the title "Drawing Contest". However, this contest is not limited to drawing. Any form of art that can be captured as a screenshot is perfectly eligible. Including, but not limited to:
2D Drawing
3D Models
Clay figures
Photography
As long as your image's theme is Gumball-related, create to your heart's content!
The Way to Submit Your Work
Submitting your artwork is simple! All you have to do to submit your work is a leave a comment with your artwork uploaded to this wiki.
If you need more information on how to attach art to your comment, please use the following resources:
The Rules
Alright; time to go over some rules:
No nudity or NSFW content under any circumstances whatsoever. Self-explanatory. Failure to follow this rule results in an automatic disqualification and a ban on your account.
Work must be your own, original content. Plagiarizing of any sorts will not be tolerated. If somebody catches you in the act, you will receive an automatic disqualification.
You are allotted one submission. If you submit more than one, only your most recent submission will be accepted.
Deadline for submissions is May 27th, 2017 at 2:00 P.M. eastern standard time (this website can help you determine what that time is for your timezone). Unless something goes wrong, this is a hard deadline. Under normal circumstances, the thread will be closed, and no more submissions will be accepted, so don't procrastinate.
Again, only still images will be accepted. Failure to so will result in a disqualification.
Any work submitted to the previous contest may NOT be resubmitted. Failure to follow this rule will result in a disqualification. Sorry guys, you have to submit something new.
Again, it must Gumball-related.
Just be aware that you're riding a slippery slope with original characters that is ultimately under the judgement of me or some other staff member. Nine times out of ten, though, the answer is "no".
To reiterate: GUMBALL RELATED
Stay respectful. Self-explanatory.
The Votes
More details on voting will be detailed in a future thread. Although, if you voted in the previous contest, you already have an idea on how voting works.
The Prize
As previously mentioned, the three art pieces with the highest number of votes will be displayed on the main page. More details to be announced in a future thread.
The Conclusion
I really hope that you guys enjoy this event. If any of you have any artistic talent, I urge you to participate. Last time, we got a total of seventeen participants! It would be amazing if we could beat that number!
If there are any concerns with the event, please contact these users at the following locations:
Have fun!
:)
(Cherish that ":)". It's one of the few times I will use emojis/"whatever you want to call it" unironically)